4:38 AM: Is There a Joe in the House?
Thursday afternoon,
T-N00k
and I set out on a week-long road trip to Athens, Philadelphia, New York City, Vermont and (hopefully) Montreal, Canada.
Details are still a bit sketchy, due to the spontaneous nature of the trip and Trent's recent trip to Austin for ACL, but I've worked out an itinerary for those of you who might be interested in where we're headed and what we plan on doing when we get there.

Thursday night
Our first stop is Athens, Georgia to see Of Montreal:
The 40 Watt Club in Athens will be the final North American stop for OM on their
Sunlandic Twins
tour. It will be Trent's first time seeing the band, and the second time for me. Good times will be had, memories will be made, and we'll get the live music fix we need to travel 850 miles over the next day and a half.
Friday
Friday is a traveling day. From Athens, we will drive the 200 miles to Charlotte, where my dad is spending the week at some Electrician's conference. He's staying at Charlotte's legendary Residence Inn:
Once there, we plan on enjoying a complimentary continental breakfast before passing out in Tommy's room as he's leaving for his first class of the day.
After a long nap, we hit the road again, this time driving 600 miles to Philly, where we'll probably eat one of these:
and bum around Philadelphia, wondering why we're wasting our time there.
Saturday
Saturday is basically the day that's going to make or break the trip. Within a 12 hour span, we have to:
A) Drive the 100 miles from Philadelphia to New York City
B) Find parking and check into our hostel in the East Village: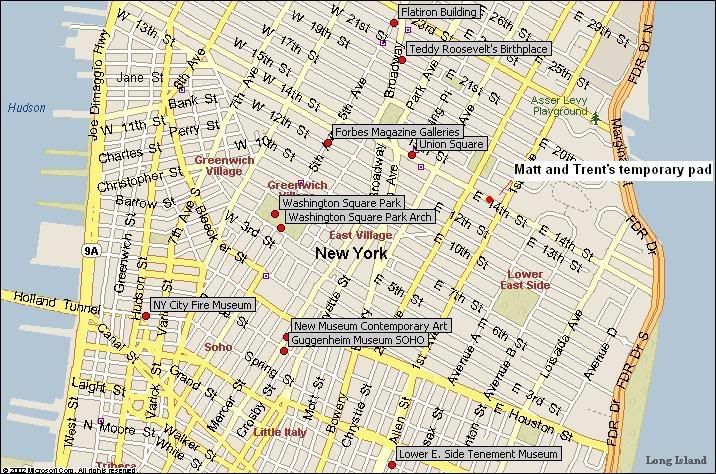 C) Explore New York. Neither of us has ever been, and we have no clue how to navigate our way around the city or use the subway system. Fortunately, we're staying in one of the cultural centers of NYC, and won't have to go far to have a good time.
Some of the places we plan on visiting:
The Statue of Liberty
Rockefeller Center
Times Square
Brooklyn Bridge
Central Park (with Richard's mom, apparently)
Carnegie Hall
American Museum of Natural History
Guggenheim Museum
Metropolitan Museum of Modern Art
CBGB's
Coney Island
Virgin Megastore (in Times Square)
Mondo Kim's
Obviously, Saturday will be a busy, busy day. Saturday night, we'll enjoy our only night in NYC, and rest up for Across the Narrows on Sunday.
Sunday
Across the Narrows
is a two day festival, with shows running simultaneously in Staten Island and Brooklyn. We're going to the second day of the festival on Coney Island in Brooklyn, where we'll see:
and some band called
While I've always been a Beck fan, I'm much more excited about seeing Belle and Sebastian and The Polyphonic Spree. Both have been working on new material over the last year, and should have some new material to play at the festival.
This year's Books EP is the best thing Belle and Sebastian's done since The Boy With the Arab Strap...it's great to hear something new from the band, and I'm curious to see if the new material will be as danceable as "Your Cover's Blown."
Monday
Right after the show Sunday night, our only goal is to get out of NYC/ASAP. Brooklyn doesn't seem too inviting after dark, and we have nowhere to stay until we get to Vermont. Once we get out of the city, we have until 8 p.m. Monday night to drive the 300 miles to Burlington to see Ween at the Higher Ground:
We'll be there for the second and final night. Seeing Ween on the first stop of their post-rehab tour, in a small club no less, should be a highlight of the road trip, and a good introduction to the band's live show, which I only got to witness briefly at Bonnaroo 2004.
Tuesday and Wednesday
Tuesday and Wednesday will be traveling days. Trent has his pretty little heart set on crossing the Canadian border either Monday or Tuesday morning and visiting Montreal, but as of now my Mom won't give me my birth certificate, which I need to cross the border (I don't have a passport). I've attempted to explain to her how much trouble she's causing us by refusing to let me have it, but she won't listen. Patriotism? Jealousy? Yeah, I don't get it either.
We should be back home by Wednesday afternoon, and I'll be welcomed back into the real world at 8 a.m. Thursday morning, when I'll be taking my Word Usage test for Journalism Fundamentals.
Feel free to recommend any restaurants, attractions, or venues in the NYC and Burlington areas. Like I said before, we're clueless about both cities, and open to any advice or experiences you'd like to share with the rest of the group. Some comments would be nice.
...and now it's 6:30 a.m.
Might be time for bed.
About
matt /
Recent posts
Archives